Private lessons for adults in Berlin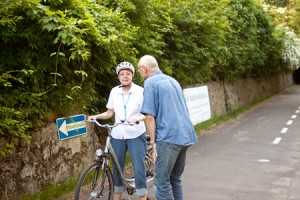 Learn to ride a bike in private lessons!
In our private lessons, we offer you to practice the know-how you gained in the safe environment of the school in real-life situations. Together with a cycling teacher you learn how to overcome your fears of riding a bike in the city traffic. After you will have taken the private lessons, it won't be a problem for you to turn left safely, to secure yourself when it comes to the "blind spot" or to learn to deal with cars, other cyclists and walking people.
Biking school in Berlin Steglitz
Our biking school is located in Berlin Steglitz. We teach all people living in and near Berlin how to ride a bike. With us, you learn in a secure surrounding of a special area that imitates situations of the real-life traffic – with warning signs and traffic lights.
Taking private lessons is the most effective way to learn riding a bike because of the 1-to-1 support. Additionally, you are able to take these lessons in English.