Cycling lessons for children in Berlin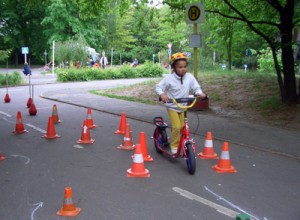 We teach your child how to ride a bike!
We also offer cycling lessons for children. Most children are insecure when they first sit on a bike. The fewest of them find the balance immediately. In order to take this insecurity and to make children familiar with the bike, we created a special course: Cycling lessons for children! In 1-to-1 support, the kids learn how to ride a bike.
The special surrounding of our biking school is the perfect place for children to overcome their fears of cycling. In our school, we copy real-life situations – including warning signs and traffic lights. This way, learning to ride a bike is fun and really easy. Additionally to the courses at the biking school, we offer to teach your child how to manage the way to school.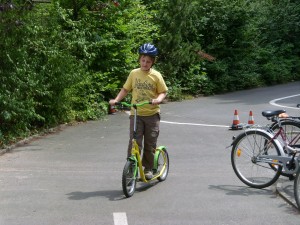 Preparation for the cycling test
In Germany, all kids have to do a cycling test in fourth grade. This is a big challenge for children who are not familiar with biking. In our biking school, preparation for the cycling test is fun. Practical and theoretical elements are connected. Together with a proficient cycling teacher, your child learns how to cope with difficult situations such as turning left.
Biking school in Berlin Steglitz
Our biking school is located in Berlin Steglitz. We teach all people living in and near Berlin how to ride a bike. With us, you learn in a secure surrounding of a special area that imitates situations of the real-life traffic – with warning signs and traffic lights.